From weddings and corporate conferences to private meetings and intimate dinner parties, The National perfectly accommodates events of any scale. The National includes meeting rooms, private dining rooms, and a masterfully appointed ballroom surrounded with 20 FT floor-to-ceiling windows and views of Dallas. Events at The National are complemented by a best-in-class culinary experience and an expert on-site event staff.
1. Weddings
2. Events
3. Catering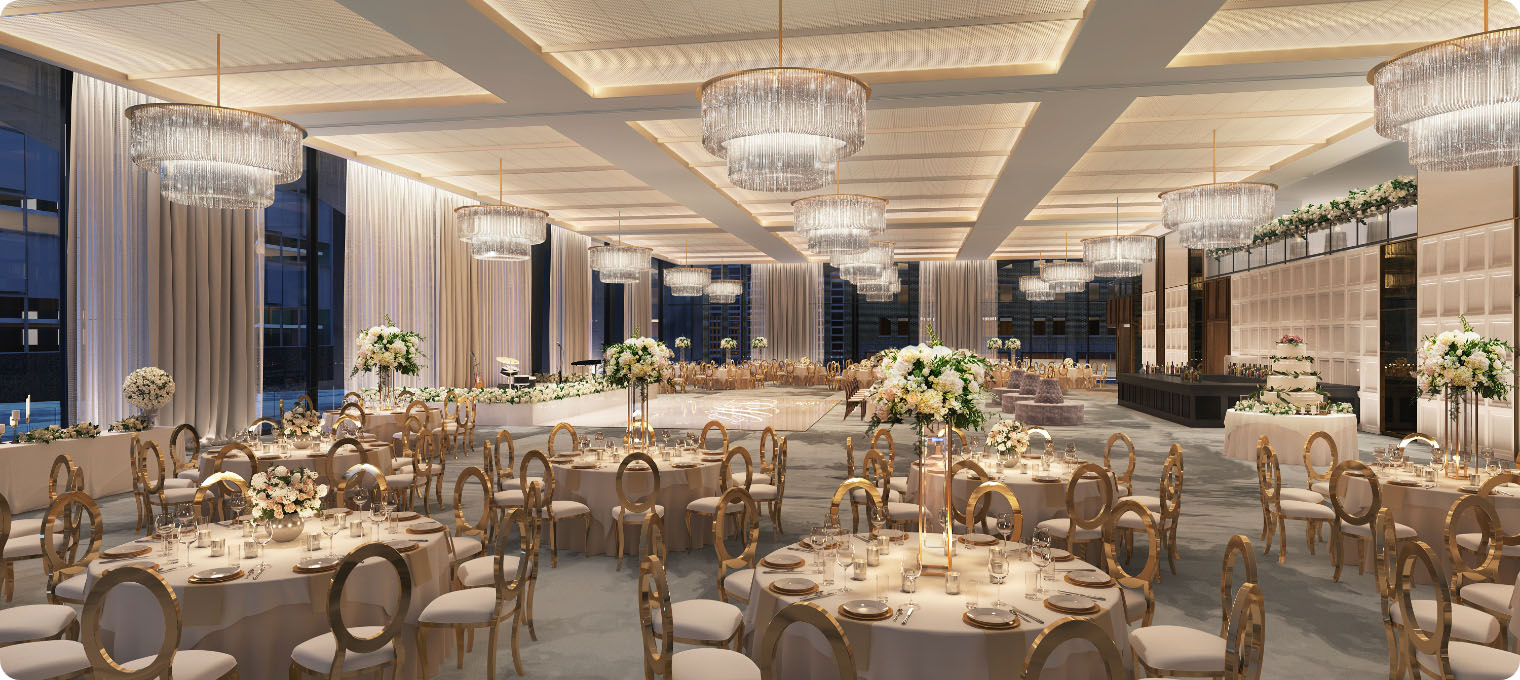 Weddings
The National is a sophisticated and elegant venue able to accommodate weddings from rehearsal to reception and everything in between. Host a rehearsal dinner at the 49th-floor restaurant by two-starred Michelin chef, accommodate your guests at The Thompson Hotel and treat the bridal party with a custom spa package before heading to luxe bridal and groom suites. Designed by award-winning interior designers, The National Ballroom is surrounded by floor to ceiling windows for a panoramic backdrop. Offering 20,000 SF of flexible layouts, The National can accommodate ceremonies and receptions of any size.
Events
The National offers 20,000 SF of flexible event space, including private meeting rooms, intimate dining rooms, and the expansive National Ballroom is able to accommodate events of any scale. Our experienced team of on-site event, A/V, and culinary experts are at your convenience to ensure a flawless and memorable experience for your event.
Catering
Whether it's a black-tie event or a casual reception, our team of culinary experts will curate a custom dining experience perfectly tailored to your needs. Events at The National are catered by Executive Chef Jeramie Robison.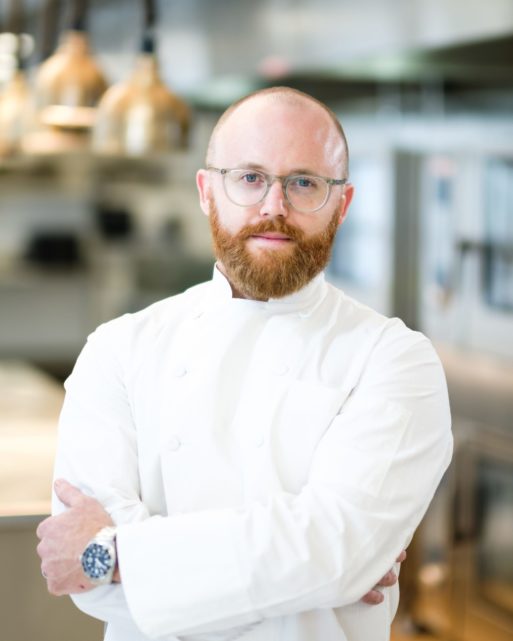 Executive Chef, Jeramie Robison is a chef by both nature and nurture – his food-loving family encouraged his culinary ambitions from the very beginning, when he began working as a cook in his native Ruston, Louisiana. From there, the bustle and excitement of the kitchen possessed him, and he earned his culinary chops working under the tutelage of John Tesar and Jason Maddy at the Mansion on Turtle Creek, where he spent three years working his way through every station while honing his skills of butchery, saucemaking, and overall business acumen. His skill and dedication so impressed his chefs that Tesar invited him to follow on a burgeoning venture in New York, where they worked together at David Burke's Fishtail.
Jeramie eventually moved back to Texas to open Tesar's own concept in the Woodlands. During Robison's tenure there, his reputation led to several recommendations of his work to Dan Zimmerman, owner of the Colombe D'or, a 72-seat fine dining restaurant within a Bed-And-Breakfast and special event venue in Houston. Upon taking over Cinq, Jeramie's career became a whirlwind of hard work and critical acclaim. He was honored as one of the top five young chefs by the esteemed Gayot dining guide, as well as being inducted as one of Houston's Star Chefs in 2012 – an honor bestowed to five chefs from a pool of 75 local restaurants.
In a moment of fortunate happenstance, Jeramie had the opportunity during this time to serve the chefs of the Uchi group and eventually applied to join their team. Since working at Uchi, he says that working with Tyson Cole and Philip Speer has been the most inspiring experience he's had thus far, and is really enjoying learning systems and structure as the company continues to grow. "The biggest challenge was learning to make food that was chopstick friendly," he says, "but it's really great, just seeing the Japanese culture and being a part of this group at such an exciting time."